Galanderie
It is probable Charles de Lambert and his mother visit the province of Touraine. By 1883 the priests of the order of the Oratory decide to sell the property 'Sainte-Marie' situated in Saint-Cyr-sur-Loire opposite the Loire, which they obtained as legacy under the name 'Galanderie' in October 1862. The villa is bought, as second residence, by Marguerite de Lambert born Savary de Lancosme-Brèves "ill son of whom needs it to inhale fresh air". So writes canon L. Bossebœf in his book 'Tonnellé et Clocheville'. Miserably the minutes of the notarial certificate have been lost in a fire during "the war 1939-1945". Countess de Lambert sells the villa again in 1886 namely to count de Boisgelin. At the time of the war 1914-1918 he has it, at the request of public authorities, furnished as 'Technical school of the Crippled Persons and Disabled Persons of the war'.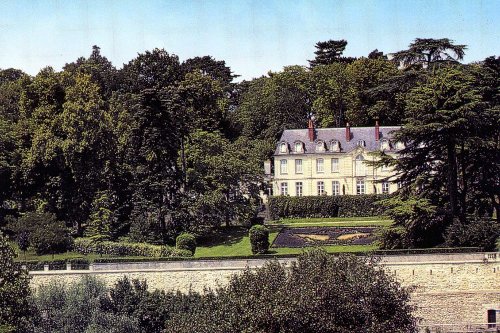 Fig. 2-6
Villa 'Sainte-Marie'
 Saint-Cyr-sur-Loire, Indre et Loire, France
Besides villa 'Sainte-Marie' countess de Lambert has obtained in Saint-Cyr-sur-Loire, on April 12 1884, lifelong concession of ground on the municipal cemetery.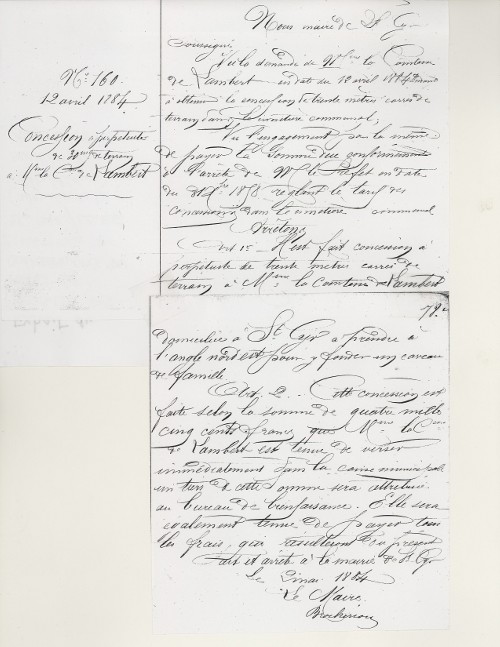 Fig. 2-7
Certificate of concession of the cemetery in Saint-Cyr-sur-Loire
 April 12 1884
Translation: 'We mayor of St. Cyr
Undersigned
Considering the request of Mrs Countess de Lambert of April 12 1884 in order to obtain the concession of thirty square meters of ground in the municipal cemetery;
Considering the agreement of the party involved to pay the sum due in conformity with the decision of the Governor of September 31 1878 coming to an arrangement of the tariff of the concessions in the municipal cemetery.
Decide
Art. 1. – Lifelong concession of thirty square meters of ground is granted to Mrs Countess de Lambert living in St. Cyr to be taken in the northeast corner so as to found a family vault.
Art. 2. – This concession is granted for the sum of four thousand five hundred francs which Mrs Countess de Lambert is bound to deposit immediately in the municipal treasury a third part will be credited with the office of charity. She will also be bound to pay all charges resulting from this.
Done and decided on the town hall of St. Cyr.
April 12 1884
The Mayor
Was signed François Brocherioux'