Loss
Thus having lost her husband on Madeira on August 1 1865 – within half a year after her wedding and expecting her son Charles – and also her father in Bayonne on November 24 1873, countess de Lambert herself dies on July 6 1909 in her home (close by in the same street on number 74 her son will live from 1907 until 1923) in Neuilly-sur-Seine, Hauts de Seine, France.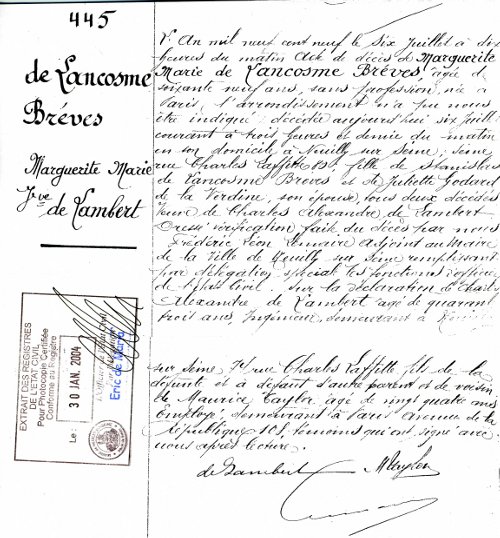 Fig. 2-10
Death certificate countess de Lambert born Marie-Louise
 Marguerite Savary de Lancosme-Brèves
 * January 16 1840 Paris; † July 6 1909 Neuilly-sur-Seine, France
Translation:
'In the year thousand nine hundred nine the sixth of July at ten o'clock in the morning Death certificate of Marguerite Marie de LANCOSME BRÉVES, sixty nine years old, without profession, born in Paris, district could not be indicated to us, died today July six of this month at half past three in the morning in her residence in Neuilly sur Seine; rue Charles Lafitte 80; daughter of Stanislas de Lancosme Bréves and of Juliette Godard de la Verdine, his wife, both deceased Widow of Charles Alexandre de Lambert Drawn up after verification done of the decease by us Frédéric Léon Lemaire deputy of the Mayor of the Town of Neuilly sur Seine fulfilling by special power of attorney the functions of officer in the registration office. According to declaration of Charles Alexandre de Lambert forty three years old, engineer, living in Neuilly sur Seine, 74 rue Charles Lafitte son of the deceased and due to the absence of any other member of the family, neighbour Maurice Taylor, twenty four years old, public servant, living in Paris avenue de la République 108, witnesses who have signed with  after reading.
was signed
de Lambert                         M. Taylor
Lemaire'
Due to the absence of any known descendants the concession has been discontinued at the time of mayor Claude Griveau (from April 1965 until October 1984). Her remains are still in an alcove on the cemetery of Saint-Cyr-sur-Loire on Friday July 15 2005.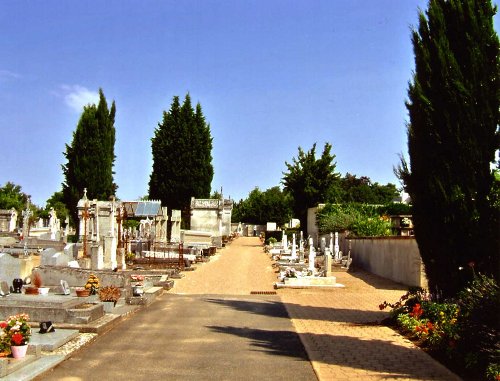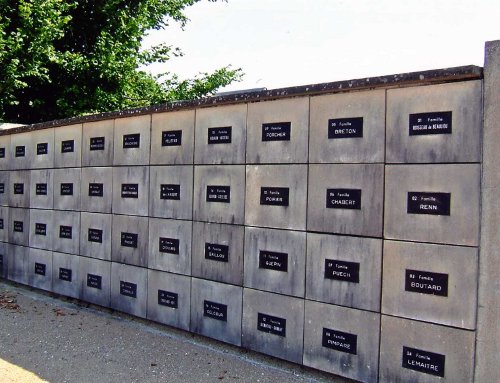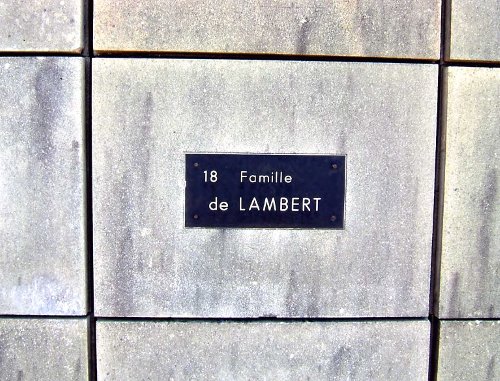 Fig. 2-11
Fig. 2-12
Fig. 2-13
Municipal cemetery in Saint-Cyr-sur-Loire
 Friday July 15 2005