Paradoxical situation
Fairly paradoxical situation, that of a child born on Portuguese territory of a half Russian father whose family has been living for seventy years in exile from their native country, and of a French mother.
The young Charles de Lambert obviously enjoys a privileged upbringing. About his mother one knows indeed she has a weak health but she is known as devoted and attentive. His grandfather, enervated by a life of struggle, remains active and receives the surname  'tireless grey-haired man' by the end of his days. Especially his grandmother, born Marie-Antoinette, Juliette, Gaudar de Laverdine is there.
To meet the expense of the unexpected passing away of her husband countess de Lambert, residing at Rua (or Largo) de Sancta Clara, is to urgently request for a loan of 12.000 ruis with Russian merchants settled on Madeira. It is to meet certain obligations among which the transport of the corpse of her husband to France as well as the necessary repairs and furnishing of the 'Quinta das Augústias' she is going to let; (on August 19 1903 countess de Lambert and her only son Charles, both living on the address 64 avenue de Paris in Versailles, sold 'Quinta Lambert' to baron Julio Paulo de Freitas, doctor and real estate owner, for the sum of £ 4.000 or 22.160.000 ruis, through the agency of the firm Blandy Brothers and Co., their representative having full powers).
Nothing really binds them to the island of Madeira (otherwise from the beginning of July 2008, more than 140 years after his birth, piloto Charles Conde de Lambert is also honoured there on my proposal).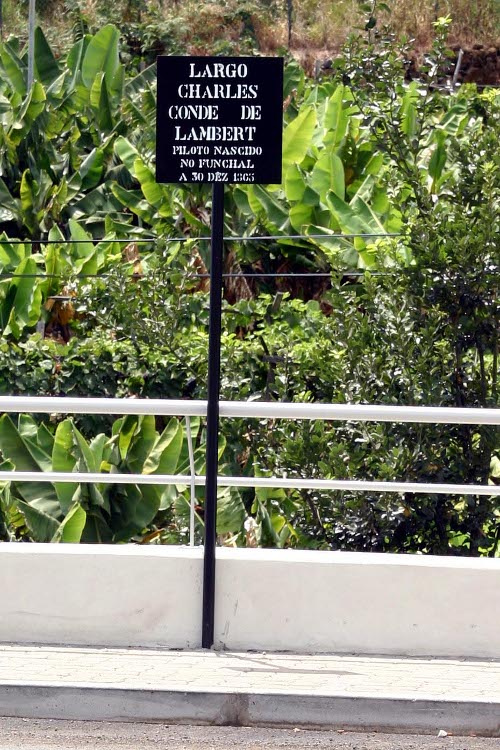 Fig. 2-2
Largo Charles Conde de Lambert
 Funchal (São Martinho), Madeira